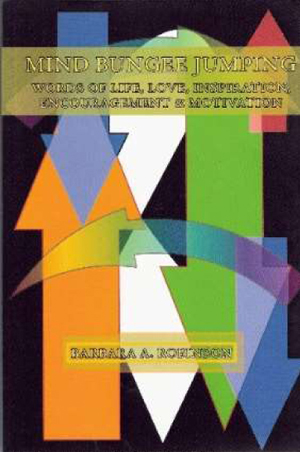 nd Bungee Jumping contains 55 original poems and 2,000 motivational quotations. It contains words of faith, love, inspiration, motivation, and encouragement. I use original quotations, quotations of others, Bible scriptures, prayers, and poems to prompt readers to follow their dreams, strive for success, inner peace, and to live their best life. This book contains lessons learned from my life's experiences.
Mind Bungee Jumping is written in two sections. The first section contains original poems that send different messages. Poems that send messages of love are written under the heading, Poems in the Key of Love. Poems that reflect everyday life are under the heading, Street Life. Poems written to motivate and encourage readers are written under the heading, Motivation and Encouragement. Poems about family life are written under the heading, Family Ties. Poems about African Americans are written under the heading, Music of my People. Poems about life as I see it are written under the heading, Through My Eyes. Poems that contain messages of friendship are written under the heading, Take My Hand. Poems written from a spiritual perspective are written under the heading, Praise and Worship.
The second section of Mind Bungee Jumping contains motivational quotations and affirmations, this section is called, Wisdom of the Ages. Quotations contained in this section are reflections of original quotations and personal thoughts; words of wisdom as quoted by some of my personal friends and colleagues; prayers and inspirational messages from Bible scriptures; words of wisdom from the pulpit as spoken by Dr. Frank M. Reid, III, who, at the time, was the pastor of Bethel AME Church in Baltimore; others are quotations from various individuals whom I respect and on whose shoulders, I stand.